Monitoring - Compliance Monitoring
It is imperative for a corporation/organization to have a detailed action plan based on a clear mission statement with cooperation from all directors and employees, in order to realize its basic mission.

First, all directors and employees must participate so a true assessment can be made of everyonefs actions and thoughts. Through such process, not only does the true gshapeh of the organization surfaces, but it is possible to assess risk and bottlenecks, confirm the basic thought processes and to establish an amicable and transparent work environment.

The Compliance Awareness Survey is not only a survey of the directorsf and employeesf awareness, but, has as its goal, further commitment to society by out-sourcing the survey to a fair and outside third party.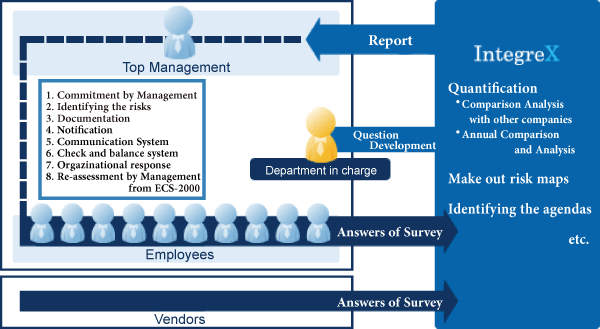 Vendor Survey - Supply Chain Monitoring
Support and cooperation from vendors, not only directors and employees, is also necessary for corporations to realize their mission. Vendor surveys are conducted to assess whether the directors and employees of the company are following the corporate mission/rules/regulations.